RICHIEDI LA TUA BH CARD 2018
Invia in busta chiusa due francobolli di posta prioritaria da 0,95 euro (per la spedizione e gestione pratica) indicando il tuo indirizzo a:

Bikershotel
Via Botticelli 17 - Z.A. Cesanella
60019 Senigallia AN
Italy

Oppure richiedi subito con PayPal o carta di credito




Bikershotel offers a special service to all its visitors.
Per tutto il 2018 nelle più grandi fiere motociclistiche e durante i principali motoraduni italiani verrà distribuita GRATUITAMENTE la BH CARD.
The card allows its owner to receive a minimum discount of 10% in our affiliated structures that adhere to the initiative.
Per sapere se la struttura che ti interessa effettua lo sconto, clicca sulla scritta BH CARD che troverai sotto le fotografie all'interno della pagina dedicata all'hotel e si aprirà il calendario 2018 con i periodi e le percentuali di sconto praticate. La CARD non è nominativa e sarà valida per tutto il 2018 in ogni categoria di strutture presente sul nostro sito (Hotel, Agriturismi, Camping, B&B, ecc.) che aderiscono alla nostra iniziativa.
The possessor will be entitled to a minimum discount of 10% (based on the structure) for a room (single, double or triple).
The groups can have discounts for multiple rooms only possessing one CARD for each room.
In order to take advantage of the discount the CARD holder must communicate the possession of it during the booking and SHOW IT AT THE ARRIVAL TO THE SELECTED STRUCTURE. FAILURE TO DISPLAY THE FMI OR BH CARD DENIES THE RIGHT OF DISCOUNT REQUIRED DURING THE BOOKING AND THE APPLICATION OF THE REGULAR RATE.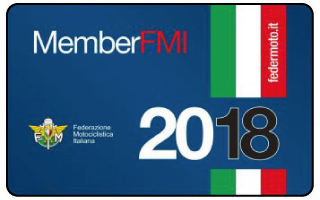 Anche per il 2018 è stata attivata una convenzione con la Federazione Motociclistica Italiana. È possibile utilizzare la propria tessera FMI come se fosse una BH CARD. It's enough present the card during the booking at one of the hotels that adhere to the initiative and you will get the minimum discount of 10%. Failure to display the FMI card TO THE ARRIVAL AT THE SELECTED STRUCTURE, denies the right of applicable discount to the BH CARD agreement. .